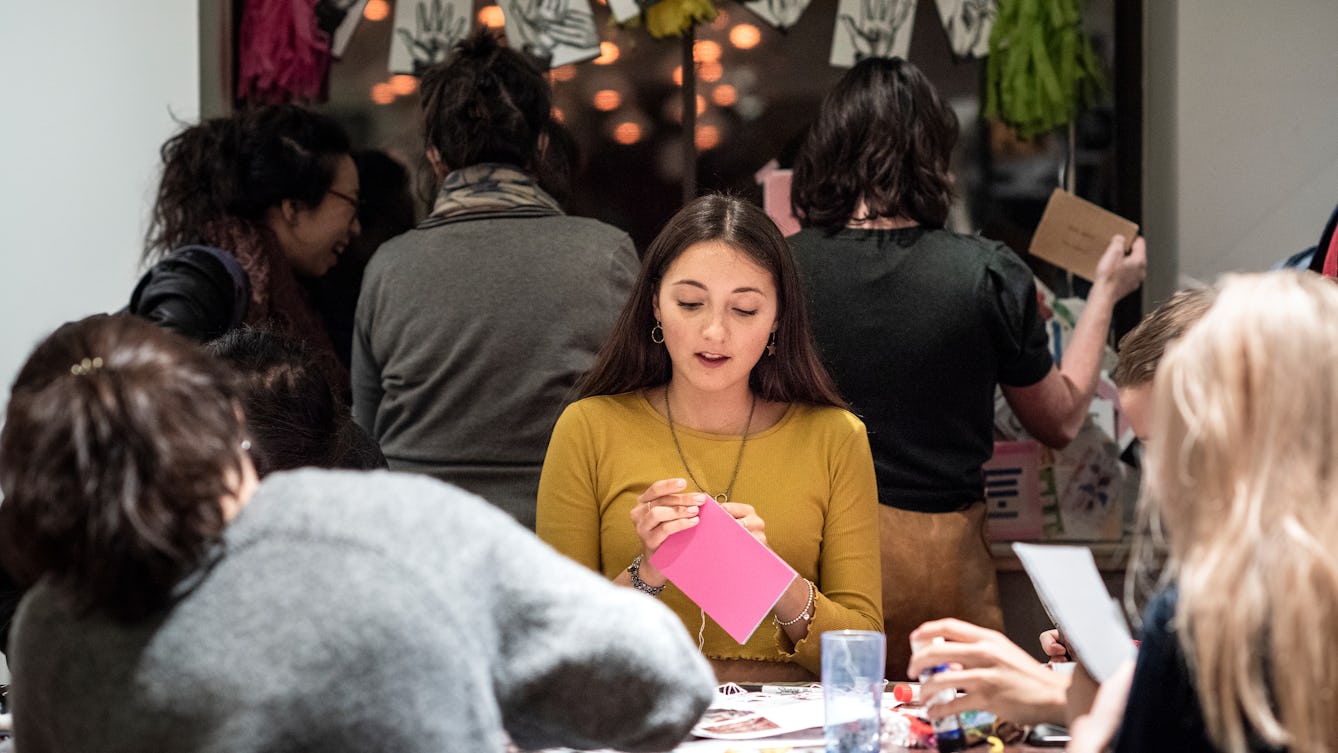 Join us for a celebration of zines. In these DIY publications, often self-published, zine makers share their personal experiences of life, health and the human condition. 
Discover the world of zines in a variety of events where you'll be able to buy zines at a zine fair, have a go at making your own, and listen to zine makers and zine collectors talking about these unique publications. You can drop into any of the events happening around the building – scroll down for further details about times and locations.
These are the zine makers you'll find at our first-ever zine fair: 
Abigail Jacqueline Jones
Ayshe-Mira Yashin 
Common Threads Press 
Em—Dash 
Fatboy Zine
FLORXL ZINE 
GhostPals
Holly Casio
Holly Eliza Temple
Korantema Anyimadu
Lucy Sullivan 
Rachel Rowan-Olive 
Rowan Frewin 
SISSY ANARCHY 
Sticky Fingers Publishing 
sweet-thang 
Zhenyi Zheng 
Past events
–
Wellcome Zine Fair
Come along to our zine fair where you can buy zines and find out more about them directly from the zine makers. There will be around 20 stalls showcasing health-related zines.
–
Zine-making Workshop
Come along to a relaxed workshop where you can try zine-making for yourself. All zine-making materials will be provided.
–
Zines at Wellcome Collection
Join Wellcome's zine librarians Loesja Vigour and Nicola Cook for an introduction to our zine collection. They'll tell you about our zines and how and why they were added to the collection. You'll be able to handle some of the zines and ask questions at the end of the talk.
–
Black Hair, Heritage and Zine-making
Join Korantema Anyimadu, the founder of 'Black Hair Stories', a creative project exploring Black women, non-binary people and hair. She'll talk about the place of zines in her practice.
–
Chill-Out Rooms
There will be two spaces available – the Studio and the Viewing Room – for when you want time away from the events. The chill-out rooms will have low lighting, comfortable seating, cushions and mats, and you'll be free to relax or lie down.
Need to know
Location
We'll be in the Reading Room on level 2. You can walk up the spiral staircase to the Reading Room door, or take the lift up and then head left from the Library Desk.
Drop in
Just turn up to this event. It's likely to have room for everyone.
Relaxed
This is a relaxed event, which means that if you need to, you are welcome to move around and make noise at any time.
For more information, please visit our Accessibility page. If you have any queries about accessibility, please email us at access@wellcomecollection.org or call 0 2 0. 7 6 1 1. 2 2 2 2020 7611 2222.
About your contributors
Facilitator
Becks is a library assistant at Wellcome Collection and a zine maker, with an interest in the history of the occult.
Facilitator
Sauren is a library assistant at Wellcome Collection, freelance curator and lecturer. Their practice often favours live programmes that generate unexpected forms of knowledge. Their main focuses are zines, creative archiving, and how food can enact decoloniality. 
Sacha Marson
Facilitator
Sacha is a visitor experience officer at Wellcome Collection with a background in history. Sacha is interested in bringing new perspectives to collections material through public events and engagements.
Beth Milton
Facilitator
Beth is a library assistant at Wellcome Collection. She also trained and worked as a teacher, and has worked in museums, developing and facilitating creative learning programmes that bring together the arts and sciences.
Korantema Anyimadu
(she/her)
Speaker
Korantema is a curator and a zine maker. Her work focuses on storytelling, oral history and identity. She was a Grrrl Zine Fair Artist in Residence in 2020 and her zines exploring Black hair and heritage have been featured in gal-dem and Vice magazine. In 2019, Korantema's community project exploring hair won a Making History Award from the Mayor of London. An installation of a hair shop by her featured in the exhibition 'Hair: Untold Stories', created by the Horniman Museum, London.
Nicola Cook
Speaker
Nicola Cook is a librarian, and is interested in diversifying the voices and perspectives of health in our library collection. When she's not cataloguing, she can be found discussing curious cures in the Reading Room or trawling the web for new zines.
Loesja Vigour
Speaker
Loesja Vigour is a librarian who spends her time cataloguing and instagramming books for Wellcome Collection. She is interested in seeking new and diverse audiences for the collections by engaging them with unique, beautiful and thought-provoking content.