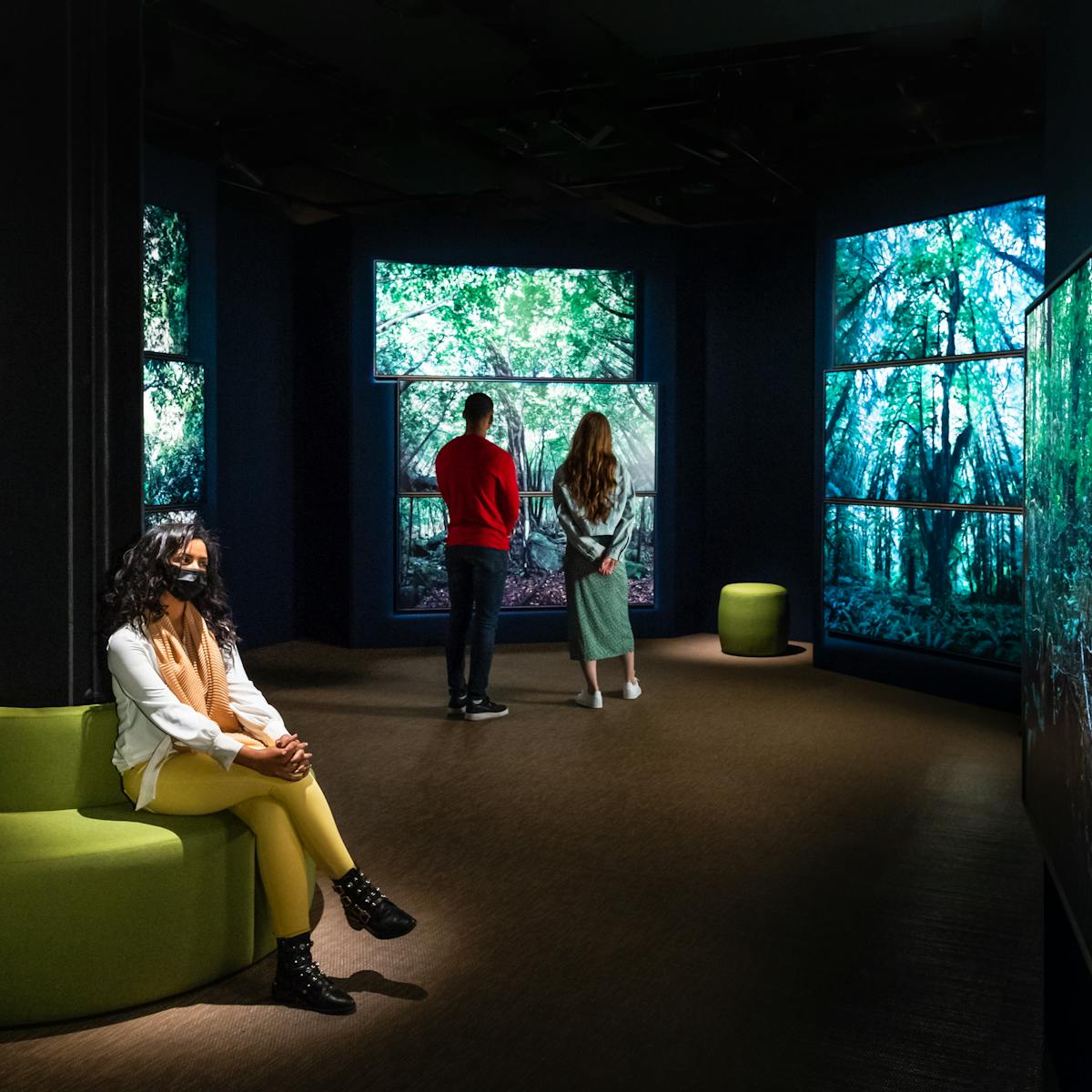 An uplifting double header — we could have spent an hour in that forest.
Take a deeper look at feelings of peace and balance.
Tranquillity brings peace and balance, helping you to reconnect with yourself and your surroundings. There may be a wonderful simplicity to experiencing such calm feelings, but they are complex and difficult to attain.
This exhibition offers new commissions that take a deeper look, such as Jasleen Kaur's playful critique of the wellness industry and Chrystel Lebas's sublime multisensory tribute to forests and how they affect our health.
Historical artefacts, from a régime du corps medieval wellbeing manual to the notebooks that Octavia E Butler used as self-encouragement, show you some of the different ways that individuals pursue moments of tranquillity. 
1 of 12
This engraving is a reproduction from painter Charles Le Brun's drawings of the passions of the soul, each of which Le Brun believed produced a different facial expression. These were used to create a visual dictionary for artists to copy from, and this page depicts the serene and idealised state of "joy with tranquillity".
2 of 12
Artist Jasleen Kaur brings our attention to social injustice within the exotifying practices of the multibillion-dollar wellness industry. This oversized palo santo wood sculpture – burned as incense for its stress-relieving and cleansing properties – references the rapid deforestation in parts of South America. Kaur asks us to consider who is exploited by acts of careless self-care.
3 of 12
This colourful print from Sri Lanka shows a scene from the Buddha's life on the path to enlightenment. It is mythologised as a great battle with Māra, the evil demon that tries to stop him with an army of monsters. According to Buddhist theology, Māra's battle represents the struggle we each face daily to see things how they really are, not confined by fear, distraction and our own ego.
4 of 12
In the religious tradition of Taoism, everything is a balance of opposites. The yin and yang symbol represents contrary forces that complement each other. Love is impossible without anger, and pain and happiness are intertwined. These interactions are celebrated and seen as complementary rather than at odds with each other. Practitioners of traditional Chinese medicine regard the body as made up of yin and yang.
5 of 12
This medieval manuscript was made for a noble French family, and it was passed down and annotated by several generations of women. The book contains advice on how to achieve equilibrium by regulating the 'non-naturals' – things such as sleep, exercise and food. The passions of the soul were included among the non-naturals, and too much of one particular passion was believed to lead to ill health.
Commonplace Books.
© Octavia E Butler.
6 of 12
Octavia Butler's writing addresses disability, race and gender rights. As part of a personal motivational routine, she regularly wrote statements of self-encouragement. These notes reveal her ambitions of connecting emotionally with her readers, becoming a bestselling author, and becoming financially secure so she could support other writers of colour.
#1000happydays.
© Sara Haq.
7 of 12
Over the course of three years, the artist Sara Haq kept a gratitude journal on Instagram called #1000happydays. Excessive social media use has been proven to increase feelings of anxiety by promoting a desire for constant approval. Here, however, Haq harnesses Instagram's journaling and connective potential, using it as a tool to treasure small details of everyday pleasure.
8 of 12
Celia Pym is interested in memories held in our clothing. She repairs worn-out garments for a living and sees a link between the therapeutic practical care of mending and her previous training as a nurse. She made this piece on a residency in the Dissecting Room at King's College London. Here Pym darned socks to practise stitching, while medical students studied anatomy around her. These socks are intentionally cut, anticipating areas where they are likely to become worn through – carrying out preventative care.
9 of 12
In this illustration a giant redwood tree towers above a small figure, symbolising its majesty. This particular species can grow over 100 metres and live for thousands of years. In response to mass felling of redwoods in the 19th century, there was public outcry. This galvanised support for the American conservation movement to demand the protection of forest land, which ultimately led to the establishment of national parks.
10 of 12
Almanacs such as these were designed to be carried by a physician on their belt and consulted to diagnose ill health. In the Middle Ages it was believed that human health was closely aligned to the cosmos, and this almanac contains astrological diagrams and celestial calendars. The Zodiac Man was a common medical illustration of the time, containing symbols situated at different bloodletting points, suggesting the times of the year when it would have been dangerous to treat those areas of the body.
Manor Garden Allotments, Hackney Wick.
© Toby Glanville.
11 of 12
Just before the Olympic development of east London, Toby Glanville documented a local allotment before it was relocated. He captures the diverse intergenerational community as they tend to their plots of land, growing vegetables and enjoying family meals. Glanville's photographs, for the 'Moro East' cookbook, capture the restorative benefits of gardening and gaining a greater connection with the earth, even in the middle of a busy urban environment.
12 of 12
Researchers at the Nippon Medical School in Tokyo first publicised their research into the health benefits of shinrin-yoku or 'forest bathing' in the 1980s. In 2019 Chrystel Lebas travelled to the Hoh Rain Forest in Washington State, USA, and then on to the Japanese island of Yakushima, known for its Yakusugi or cedar trees. These two temperate rainforests contain some of the oldest living trees in the world. Lebas takes photographs with a long exposure to capture a rich spectrum of blues and greens in the last moments of daylight. In this installation, these monumental photographs are accompanied by a natural soundscape recorded on location and a scent of petrichor that evokes the smell of the forest floor after it has rained.
Gallery guides
A complete set of gallery captions is available to read online. Large-print captions are also available in the gallery.
Our digital gallery guide for 'Joy' and 'Tranquillity' features 24 perspectives from medicine, science, religion and poetry, and audio descriptions of some artworks. It is available as audio, BSL and complete transcripts. Handsets are also available in the gallery, but we encourage you to bring your own device and headphones.
A family guide for people with children aged 3–11 is available in the gallery.